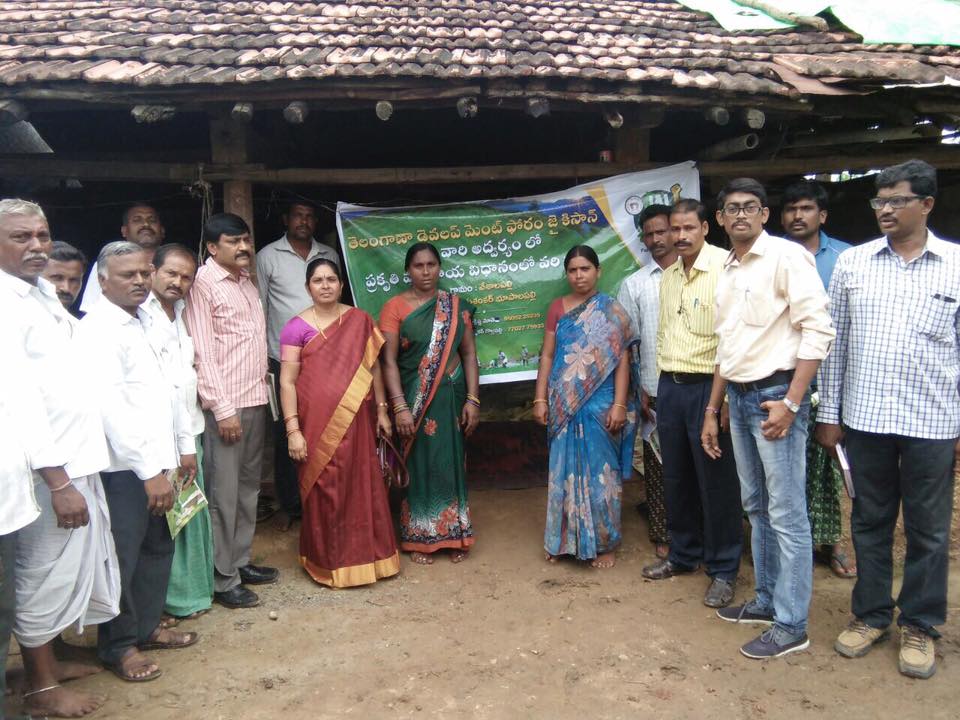 TDF Jai Kisan is a project under TDF-USA organization and it is started in 2015 to support farmer issues in Telangana. Providing financial aid for suicide farmers, working with farmers in doing Organic farming and Zero Budget Natural Farming for Kharif and Rabi, providing awareness by giving training, providing infrastructure support for the needed (33 cow urine storage tanks), providing desi seeds to 160 farmers, Guiding through marketing products, Capturing challenges and experiences for cropping season, providing exposure visits to farmers.
So far TDF Jai Kisan extended financial support (Rs. 10000 per family) to 31 farmer families who committed suicide across Mahaboobnagar, Nalgonda, Warangal, Adilabad, Karimnagar, Medak districts, and also Rs. 25000 to a lady farmer who attempted suicide in Karimnagar district.
In year 2016, we worked with 100 farmers in 3 model villages at Perumandlagudem, Warangal, Talluru VenkataPuram, Kalluru, Khammam and Erragattu Tanda, Mellacheruvu Mandal, Nalgonda and in 2017, we are working with 27 farmers in Veshalapally, Bhupalpally and Talveda, Nirmal who are very keen in to using Sri Subhash Palekar ji's Zero Budget Natural Farming. As part of the project, Jai Kisan worked with Telangana Go-Shala to provide 21 cows for ZBNF farming.
As part of providing relief to suicide farmers to generate extra income, team provided 4 sheep which can be reared and 4 stitching machines.
The functioning model of Jai Kisan team comprising of USA team, Project Manager and coordinators in India. Jai Kisan team is able to provide employment for about 6 people in Telangana. Team also closely working with Department of Agriculture officers, Krishi Vignan Kendra scientists, Trainings at Central Govt institutes on latest concepts and marketing strategies for farmers.
Part of the activity, Jai Kisan released a book on ZBNF and distributed to farmers, where in farmers can get immediate benefit of preparing herbal juices for the crop.
Benefit that provided directly to farmers are:
Reducing farming cost by using local ingredients, stopping chemical fertilizer usage by which soil fertility level increases and nutrient destruction is reduced, creating farmer societies to market their product which avoids middle men.
TDF Detroit conducted charity cricket tournament to support Jai Kisan project for 2016 and 2017 and generously donated about $5900.00.